Keen to run a marathon but don't want to run 26.2 miles? We've compiled a list of the best marathons that aren't actually marathons.
If you're thinking of running a marathon, a good start is to actually choose a race that is a marathon and not a race that isn't a marathon. Unfortunately, Runner's World doesn't seem to understand the definition of "a marathon" and seem to think they can include any race at any distance and call it a marathon (seriously? Man vs Horse?)
We thought we'd go one better and make a whole list of non-marathons.
Quite incredibly, this makes this feature more accurate than theirs. Here's a list of 10 marathons that aren't actually marathons.
1. Asics Greater Manchester Marathon
You'd be forgiven thinking Greater Manchester Marathon was a marathon by its name. Well, it is… unless you ran it in 2013, 2014 or 2015 when it wasn't. For three years, the "marathon" was 380 metres short resulting in the retrospective invalidation of the times of 24,000 runners. Without any recourse. Nice. https://www.independent.co.uk/sport/general/athletics/manchester-marathon-too-short-by-380m-for-three-years-as-24000-runners-have-times-invalidated-a6995681.html
2. Marathon des Sables
Everyone knows the City Boy Fun Run isn't actually a marathon distance. It's a little bit longer than that. So it's not a marathon. Also, no-one knows how to pronounce it properly (even the organisers). The official organisers suggested 2011 was the hardest, sandiest year.
3. Marathon bars
In scenes reminiscent of Brexit, one of the most damaging and long-lasting attacks on decency occurred in 1990 when Mars Corporation decided to change the name of the beloved nutty chocolate bar from Marathon to Snickers. Scenes were such across Britain's confectionery stores that the government had to put on specialist helplines to deal with the fallout of this heinous change – not experienced in Britain for another decade when Unilever decided to change Jif to Cif. Monsters.
4. Marathon, Greece
The very place in Greece that gave its name to the aforementioned race. Not an actual marathon.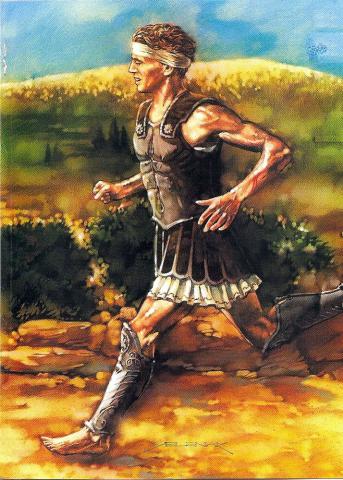 5. The Barkley Marathons
Not so much a marathon as a series of consecutive races of indiscriminate distance. Certain to be longer than a marathon. Uncertain as to whether you'll a) know where you're going b) know why you're doing this c) know how to get back to the start. Recommended (watching on Netflix).
6. A Netflix marathon
A modern phenomenon, so-called when an individual or group of individuals watch a series of programmes or movies on the US streaming service Netflix. The consecutive viewing experience is what gives it the name "marathon". Also, NOT a marathon. (Not to be confused with Netflix and Chill… although often combined).
7. The battle of Marathon
Not so much a race as a battle to stay alive, the battle of Marathon saw Greek forces pitted against an invading Persian army in 490BC. The Greeks won. Also, NOT a marathon.
8. Mid Sussex Marathon
Following in the footsteps of events that use the word "marathon" but aren't, the Mid Sussex Marathon is not one but THREE races. Held across the May Bank Holiday weekend, when you run the Mid Sussex Marathon you run a 10 mile race on the Saturday, a 10 miler on the Sunday and a 10k on the Bank Holiday Monday (adding up to a marathon distance). Each race takes place in a different town in Mid Sussex allowing you to see the delights of Haywards Heath, East Grinstead and Burgess Hill. In one of those towns, running is the preferred and safest method of ambulation. Nice concept. Also, NOT a marathon.
Actual footage of last year's winner
9. Marathon Man
Starring Dustin Hoffman and Sir Laurence Olivier, Marathon Man is a 1970s Nazi-chasing, suspense thriller from the story by William Goldman. There's a great torture scene in it that will leave you never wanting to see a dentist again. There's a bit of running involved. Also, NOT a marathon.
10. Brighton Half Marathon
Ok, so it's got the word "marathon" in the name but it's obviously NOT a marathon. However, Brighton Half is special in that it's not a half marathon either. For some years, at least. Unlike the Manchester Marathon disaster, Brighton Half actually measured the course TOO LONG in 2012. And just like Manchester Marathon, measured the course TOO SHORT for three years in a row. One time is a mistake, two times is just careless… four is, well…
The organisers have also experienced other failures, including being unable to arrange a piss-up in a brewery, getting laid in a brothel or, indeed, finding their backside with both hands.
So, all in all, NOT a half marathon. Or a marathon.